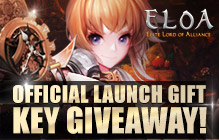 ELOA Official Launch Gift Key Giveaway
FREE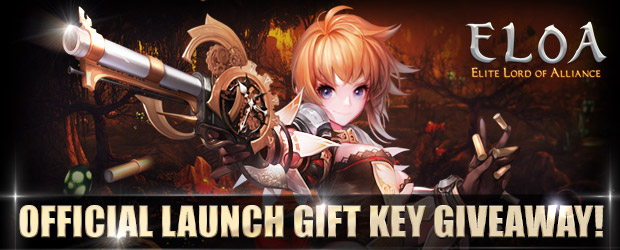 To celebrate ELOA's official launch, MMOBomb has teamed up with the ELOA team to give away ELOA Official Launch Gift Key. Don't miss out!
ELOA: Elite Lord of Alliance is an anime-inspired triple-action hack 'n' slash MMORPG, with classic action RPG elements and unique dynamic 3-combat-stance gameplay. ELOA is set in a vibrant, open world full of PvP battles, quests & dungeon raids. It comes with an instance party finder system and features an extensive pet & costume system to suit all players.
How to get and use your Key:
Redeem instructions:
1. Go to http://www.webzen.com/Coupon
2. Log in with your account
3. Select your server and character, and enter the Coupon Code (without hyphens)
4. Click "redeem coupon code"
If you are new to WEBZEN, please see the following;
1. Create a webzen.com account.
2. Go to http://eloa.webzen.com/ to download the game client and install ELOA.
3. Choose a server.
4. Create a new character.
This key contains the following items
● Server chat (light purple) x5
● Eva's survival pack x1 (Eva's Tear x5, Eva's authority x5, Eva's breath x3)
Notes:
* Server Chat: Can use server chat 1 time for each item.
* Eva's Tear: Recovers total HP and MP by 30%.
* Eva's authority: Decreases cool-down time by 10% for 1 hour.
* Eva's breath: Can be used upon death. Immediately resurrects you at your current location.
- Usable until: December 8th
- Coupon codes can only be used with an existing WEBZEN account
- Coupon codes are limited to one use per account
Need Help?
Having problems with your key? Please visit our help center HERE.
More Giveaways:
Games You May Like