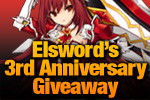 Elswords 3rd Year Anniversary Giveaway Event - Win an ASUS G750!
FREE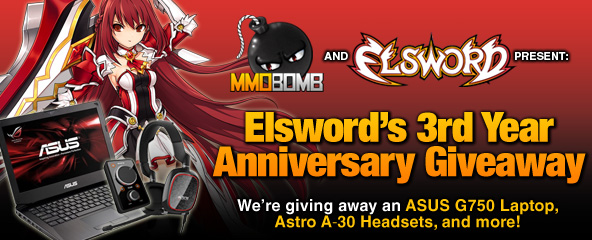 To celebrate Elsword's 3rd year anniversary, MMOBomb has teamed up with Elsword publisher KOG Games in order to hold an exclusive giveaway for a chance to win an ASUS G750 Laptop! In order to enter your name into the giveaway just follow the instructions below. More prizes will also be given out to other lucky participants. Winners will be announced by May 21, 2014.
EDIT: Winners have been chosen and emailed. Awaiting an email from KOG with the list of winners to display here.
ENTER HERE
How to signup for a chance to win:
1. Create your free KOG Games account through this page.
2. Activate your account and download the Elsword game client.
3. Launch the game, log on and play any character at least once.
4. Success! – You are now entered into the giveaway
8. Make sure you never miss a giveaway, follow our updates via Facebook and Twitter!
9. That's it, enjoy!
Other Prizes You Could Win:
* Astro A-30 Headset – 3 Winners
* Elsword T-Shirt – 20 Winners
* $20 in Elsword Currency – 40 Winners
Rules:
1. This event runs from April 30 to May 14, 2014. Registration
cut-off is on May 14th at 11:59 PM PDT.
2. Only participants in North America with accounts created on this
page may qualify to receive prizes.
3. Each player can only enter the contest once.
4. At the end of the event, winners will be chosen randomly from
among all qualified entrants.
5. Winners will be announced by May 21, 2014.
More Giveaways:
Games You May Like