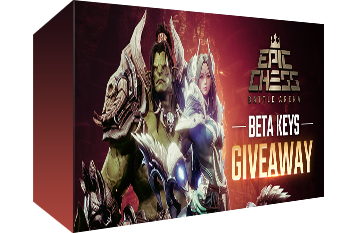 Epic Chess Beta Key Giveaway (Steam)
FREE
MMOBomb and PATHFINDER8 have partnered up to get our users a free Epic Chess Beta Key.The Epic Chess Closed Beta will run from April 8 until April 13.
To unlock your key instantly you just need to complete all the steps on the top. Get your key now while supplies last!
How to use your Key:
1. Complete all steps to unlock your key.
2. Launch Steam and log into your account.
3. Go to Games then click on Activate a Product on Steam...
4. Enter the beta key code.
5. Go to your Steam game library, highlight the game, and click install.
This key contains the following:
⦁ Each key will allow you to access the closed beta during April 8 – April 13, 2020:
Server opening times:
12:00 ~ 24:00 KST
11:00 ~ 23:00 CST
20:00 ~ 8:00 PDT
23:00 ~ 11:00 ET
6:00 ~ 18:00 MSK
Note:
1. Each code can be redeem just once and each person cannot redeem more than one of these codes.
2. After the beta period has ended, all progress in game will be reset at launch.
3. All testers will receive an exclusive reward at official game launch.
4. If the giveaway runs out of keys, those interested can sign up for a chance to win a spot in the exclusive CBT. To sign up, visit: http://epicchess.net/
About:
Epic Chess is an auto battler with beautiful graphics and unique complex strategy, completely new system to the genre. With a multitude of unique race and class which form the game rosters of heroes. Players battle together or against another player in a competitive setting to reach the highest rank among all global players.
More Giveaways:
Games You May Like