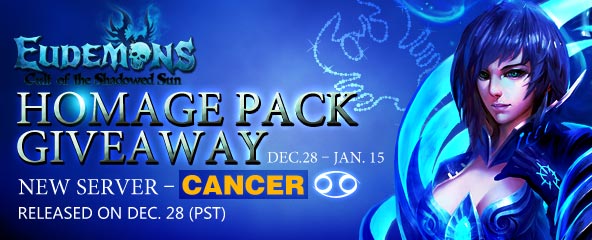 Eudemons Online: Gift Pack Giveaway for New Server
FREE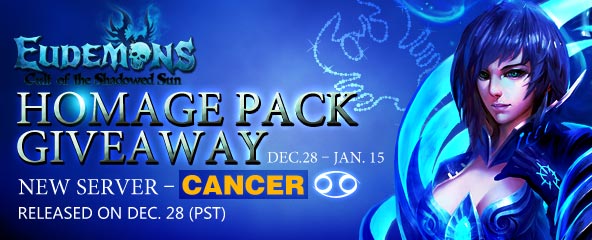 The latest expansion pack of Eudemons Online, Cult of the Shadowed Sun, was launched today with a brand new server – "Cancer". In order to celebrate the grand launch of the new expansion pack and the new server, TQ Digital teams up with MMOBomb to bring up a homage gift pack for players who create new characters in the new "Cancer" server. With the pack, players will be able to boost their leveling pace and have more fun during the adventure journey. What are you waiting for? To get your code key you just need to click on the button below.
How to get and use your Key:
1. Log in to your MMOBomb account to get your key. If you don't have one, register for free HERE.
2. Copy and paste your key to a safe place as you may not be able to retrieve it once closing your browser.
3. Go here and follow the instructions
4. Make sure you never miss a giveaway, follow our updates via Facebook or Twitter!
5. Have Fun
The Key Includes:
1. EXP Ball x 2 (EXP boost for yourself or your Eudemons)
2. Elite Equipment Pack (A set of Elite Equipment for you, which is far more stunning than the normal one)
3. Talisman Pack (Enhance your Battle Power, increase attack, or decrease your damage taken)
4. Moon Blessing x 2 (Double EXP, free offline training, reviving at the death place, 30% off when buying goods, 30% extra money gained when selling goods, etc.)
5. Logs Scroll (Help you with your business of log deliver)
6. 99 White Roses (Male characters can send roses to your girls)
PS: The Talisman cannot be obtained in the item mall or any other places. The only way to get it is through this event.
Notes:
1. For new created characters only
2. One gift pack per account per IP
3. First come first served
Eudemons Online Trailer:
More Giveaways:
Games You May Like