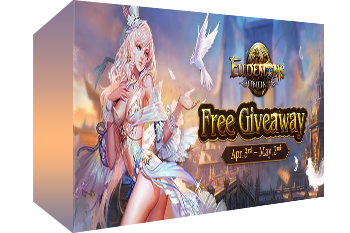 Eudemons Online Lucky Pack Giveaway
FREE
MMOBomb has partnered with Eudemons Online team to bring a special free lucky Pack key for our users (new players only) to challenge the new server Elysium! The lucky pack key will give you several amazing prizes!
To unlock your key instantly you just need to complete all the steps on the top. Get your key now while supplies last!
How to use your Key:
1. Complete all steps to unlock your key.
2. Sign up for FREE on the Event Page.
3: Download the game and login to create a new character.
4: Login the event page with your account and input the code.
5: Login the game and find Lorraine (Cronus 221,632) to claim the pack.
This key contains the following:
⦁ 1 Million Gold
⦁ Graceful Fiery Soul Pack (30 Days)
⦁ Elf Nevaeh Pack
⦁ Sea of Stars (14 Days)
⦁ Luxury Moonlight Pack
⦁ One set of Level 51 Super Equipment
⦁ One Level 71 Super Weapon
Note:
1. Event Duration: April 3rd to May 2nd (PST)
2. One gift per new created character.
3. Only for the new players who have successfully registered during the event.
4. Code can only be used in new server Elysium.
About:
Eudemons Online is a Free-To-Play fantasy MMORPG presented by TQ Digital. In this mythic world, you can choose to be a Warrior, a Mage, a Paladin, a Vampire, a Necromancer or a Shadow Knight. Over one hundred distinct Eudemons are ready to assist you in your travels...
More Giveaways:
Games You May Like