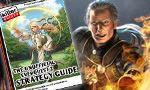 EverQuest 2 Guide Giveaway (Worth $29.99)
FREE


Because we love you guys MMOBomb.com and Killer Guides are teaming up to give our users the great opportunity to win a free Everquest 2 Guide (Worth $29.99).
We have 10 guides to offer (worth $299,9). Usually to get a Killer guide you have to buy through the store at http://www.killerguides.com where you can find lots of guides. So don´t miss this exclusive offer!
How to get your free guide:
Easy, you just need to be registered at MMOBomb and follow us on Facebook, Twitter and Youtube (if you don´t have an account for example on Twitter, it's ok), and complete the following sentence:
"I will win the EverQuest 2 Guide because... "
Leave your sentence in the comments below.
Note:
This giveaway will run from January 11 to January 31 2012. The winners will be published during the following days in this post and will receive a notification via email, so please use a valid email and check your mailbox.
More Giveaways:
Games You May Like