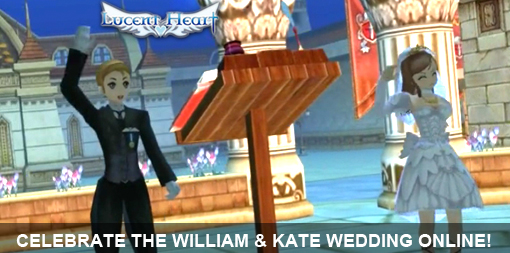 Lucent Heart (Europe): William & Kate Wedding Giveaway
FREE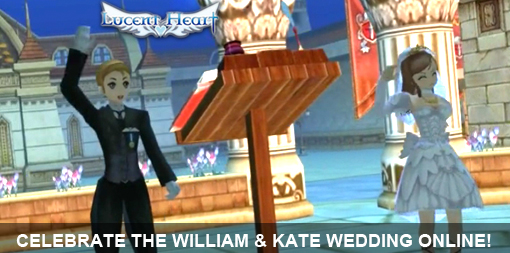 MMOBomb.com and Gamania have teamed up to give our users a key which will grant you a free in-game item for Lucent Heart. A wedding is a joyous occasion, but none so more than in the world of Lucent Heart where this week the nuptials of William and Kate will be celebrated exclusively in-game. To get your key you just need to click on the link bellow. Don't miss out on this exclusive offer!
Lucent Heart is a MMO (Massively Multiplayer Online) adventure game from leading publisher Gamania, where the forces of good battle evil for control over the world of Acadia. The game is inspired by the zodiac and Greek mythology which sees the player's action's influenced by their daily horoscopes, and features Cupid match-making for players to join and fight together as they venture forth into the land of Acadia.
The Gamania team invites everyone to join the festivities starting the 28th of April until the 2nd of May. As well as the Royal wedding ceremony and following party on the 29th April, the Lucent Heart community team will offer other forms of entertainment as well such as exclusive competitions, fun events and giant boss fights. Players who register at beanfun! before Wednesday the 27th at midnight (CET) will receive 10,000 stardust points, which can be used to purchase special items in-game. Players who want to attend the wedding in style can grab the redeemable code for a Royal Lion mount.
The key contains the following item:
- Royal Lion mount
How to get and use your Key:
1. Log in to your MMOBomb account to get your key. If you don't have one, register for free HERE.
2. Go to http://en.beanfun.com/ (A guide will be up shortly at http://en.beanfun.com)
3. Make sure you never miss a giveaway, sign up for our daily newsletter, it´s free!
More Giveaways:
Games You May Like