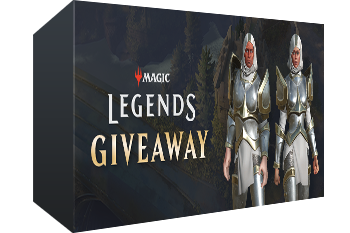 Magic: Legends Crusader Armor Pack Key Giveaway
FREE
MMOBomb and Perfect World Entertainment have partnered up to score YOU a free special gift pack for Magic: Legends. Each key unlocks an Exclusive Costume, Drop Reward Boosts and more.
To unlock your key instantly you just need to complete all the steps on the top. Get your key now while supplies last!
How to use your Key:
1. Complete all steps to unlock your key.
2. Download the Arc Client and log into your account.
3. Click on the gear icon located on the top right of the client.
4. Select "Activate a Product" and enter your code.
This key contains the following:
⦁ Crusader Armor - An exclusive costume that is only available through giveaways and cannot be purchased in the game.
⦁ 2x End of Mission Boosts - Increases end-of-mission rewards for spell pages, gold and experience by 100% for the next mission.
⦁ 2x Drop Reward Boosts - Doubles the drop rate of rewards for 30 minutes of play in either instanced or overworld content.
Note:
1. Each code can be redeemed just once and each person cannot redeem more than one of these codes.
2. All keys expire December 31, 2022.
About:
Magic: Legendsis a free-to-play, persistent world, hack'n'cast online Action RPG based on Wizards of the Coast'siconic trading card game, Magic: The Gathering.
More Giveaways:
Games You May Like