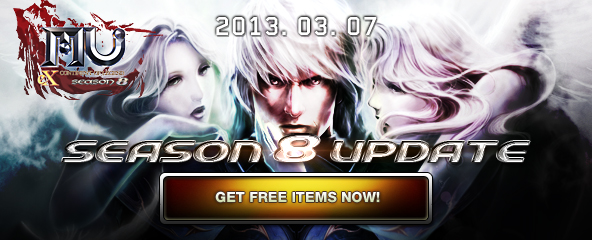 MU Season 8 Free Items Giveaway (Worth $150)
FREE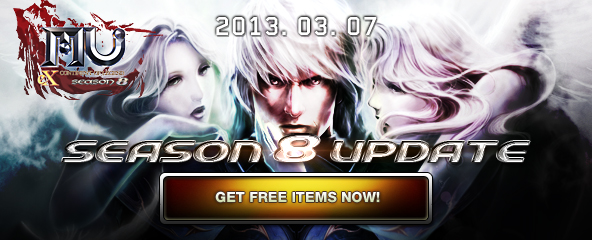 To celebrate MU Online's latest Update, MU Season 8, MMOBomb have teamed up with WEBZEN to give away a $150 worth of items including newly updated items. Returning Players who haven't logged in to MU Online since Feb 6, 2013 (GST) and New Players who started playing MU Online since Mar 6, 2013 (GST) will be qualified for this promotion. To get your key you just need to click on the button below. Don't miss out on this exclusive offer!
How to get and use your Key:
1. Log in to your MMOBomb account to get your key. If you don't have one, register for free HERE.
2. Copy and paste your key to a safe place as you may not be able to retrieve it once closing your browser.
3. Visit Item Code Promotion page.
4. Login in to the website, redeem your Item Code (16 digits) on Item Code Redemption page (If you are new on Webzen, please create new account).
5. Free items will be immediately given if the players get approved to receive them.
6 This promotion will be disabled after March 20, 2013 17:00 (GST).
7. Make sure you never miss a giveaway, follow our updates via Facebook, Twitter!
8. Have fun!
Note:
- Event Period: March 7 ~ March 20, 2013(GST)
The Key Includes:
$150 worth of items including newly updated items

-For Returning Players-
Divine Wings [3 Days] (a New Item)
Great Heavenly Mage Transformation Ring [3 Days] (a New Item)
Pandora's Pickaxe [1] (a New Item)
Gold Channel [15 Days]
Seal of Wealth [15 Days]
Master Seal of Wealth [15 Days]
Skeleton Pet [15 Days]
Seal of Healing [15 Days]
Excellent Scroll Package [15 Days]
AG Boost Aura [15 Days]
Rage Fighter Card [1]
Summoner Card [1]
Shiny Jewel Box [1]
2nd Lucky Armor Set [1]
Jewel of Extension [1]
Acheron [New Map] Ticket [1]
Character Name Change Coupon [1]
Sealed Scroll of Oblivion
-For New Players-
Divine Wings [15 Days] (a New Item)
Robot Knight Transformation Ring [15 Days] (a New Item)
Gold Channel [15 Days]
Seal of Wealth [15 Days]
Panda Pet [15 Days]
Seal of Healing [15 Days]
Excellent Scroll Package [15 Days]
AG Boost Aura [15 Days]
SD Boost Aura [15 Days]
Sapphire Ring [15 Days]
Sapphire Necklace [15 Days]
Rage Fighter Card [1]
Summoner Card [1]
1st Lucky Armor Set [1]
Kalima Ticket [5]
MU Season 8 Trailer:
More Giveaways:
Games You May Like