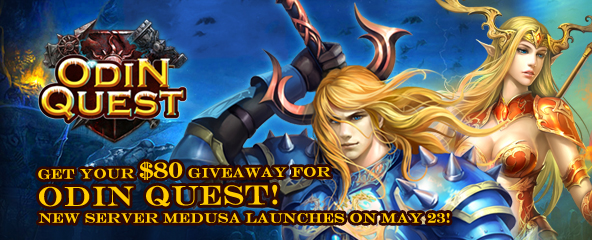 Odin Quest Starter Pack Giveaway (Worth $80)
FREE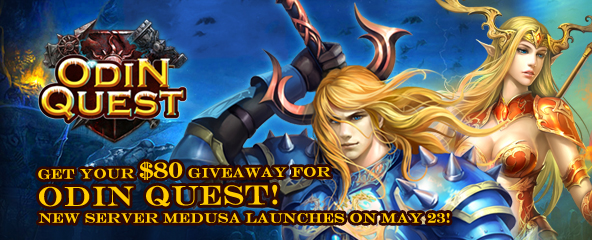 MMOBomb and Snail Games have teamed up to give our users free in-game items for Odin Quest. This gift pack will help to make your journey of adventure as easy as possible! To get your code key you just need to click on the button below.
Odin Quest is a free browser-based MMO-ARPG game based on the story of Nordic Myth originated from Iceland and surrounding countries during 1st and 2nd century.
How to get and use your Key:
1. Log in to your MMOBomb account to get your key. If you don't have one, register for free HERE.
2. Copy and paste your key to a safe place as you may not be able to retrieve it once closing your browser.
3. Register here and log in game, then create a role on Server #1 Medusa.
4. Visit Newbie Card NPC Kuroro [58, 106] in Medagate and talk to her, click 'Marketing Gift II' to redeem the Marketing Gift Card.
5. Check whether the gift mail has been sent.
6. If the Card doesn't work or you don't get the gift after redeeming the Newbie Card successfully, please contact any in-game GM for help.
7. Make sure you never miss a giveaway, follow our updates via Facebook and Twitter!
8. Have Fun!
This package contains the following items:
- Lv3 EHC Stone x 1
- Daily VIP Card x 1
- Escort Scroll x 2
- Inventory Enlarger (1 slot) x 1
- Ghost Knight (1Day) x 1
- Secret Pattern x 3
- Alliance Coin x 1
Note:
You can visit Newbie Card NPC Kuroro [58, 106] in Medagate and talk to her. Click Newbie Card and input the Marketing Gift Card Code to Receive Gift. Then those gift items above will be delivered instantly via in-game mail.
More Giveaways:
Games You May Like