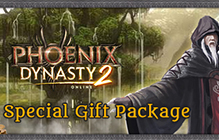 Phoenix Dynasty 2 Gift Key Giveaway
FREE
MMOBomb and Ntroy are teaming to get our readers a free gift key for Phoenix Dynasty 2. Each key contains one "Blue-Ice Wolf" mount (3 days).
To unlock your gift key instantly you just need to complete all the steps on the top. Grab your key now and get into the action!
How to use your Key:
1. Complete all steps to unlock your key!
2. Install Phoenix Dynasty 2 via Steam here.
3. Create at least one character with your account.
4. Redeem your key in the market menu, follow the instructions here.
This key contains the following:
⦁ Blue-Ice Wolf (3 days)
Note:
1. Each code can be redeem just once and each person cannot redeem more than one of these codes.
2. To receive a promotion code, you must have created at least one character with your account.
3. This offer ends on 08.07.2018 2018 GMT.
About:
Phoenix Dynasty 2, suits the one's fancy who are seeking for old school MMORPG with its rich content rather than its graphical features...
More Giveaways:
Games You May Like