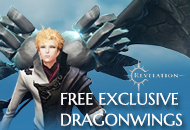 Revelation Online Dragon Wings Giveaway
FREE
MMOBomb.com and My.com are teaming up to get our readers a sweet free gift key for the free-to-play MMORPG, Revelation Online. Each key will unlock the in-game item "Dragon Wings".
To unlock your code key you just need to complete all the easy steps. Get your key now while supplies last!
How to get and use your Key:
1. Sign up for an official Revelation Online account
2 Navigate to your user profile and enter your code in the "Enter your code" field. Then click "Submit"
3. Once you have redeemed your code, you can download the client here.
4. Head to your inventory on the website which you can find here.
5. Select the item you would like to send to your character. Please make sure you already have a character created, if you do not you will need to refresh the page once you have created a character.
6. Once you have selected item, server and character which you want to receive the items proceed to click on 'Send'.
7. Your item has now been sent to your character, you will now need to retrieve it. You can do this by going to a Postal Attendant. There is one on the starting island and also one at the bottom of Sulan. You can double check that you have received your items by selecting the Mail icon (the one which looks like a letter) in the top right hand corner, you can also use this icon to navigate to your nearest postal attendant by pressing the 'item' button.
8. Once you have visited a postal attendant you can claim your items from the letter you have received by also selecting the 'item' button. These items will go to a temporary inventory where you will need to select 'obtain'.
9. You must be level 29 to redeem the wings.
Featured Video
Note:
1. Each code can be redeem just once and each person cannot redeem more than one of these codes.
2. This gift keys are going to expire on Sept 30th.
About:
Revelation Online is an breathtaking MMO in which players will discover an amazing adventure and explore a vibrant world of ancient mystery using the power of flight without any boundaries. The game includes several PVP modes, like a Last Man Standing arena, sieges for up to hundreds of players, as well as PVE raids, requiring teamwork and tactical gameplay.
More Giveaways:
Games You May Like