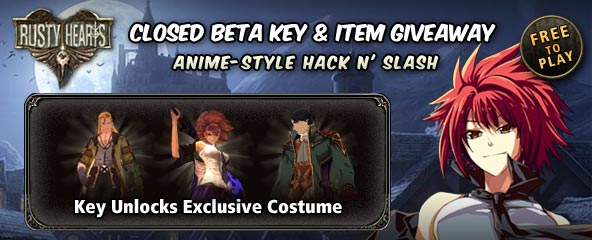 Rusty Hearts Beta key and Exclusive Item Giveaway
FREE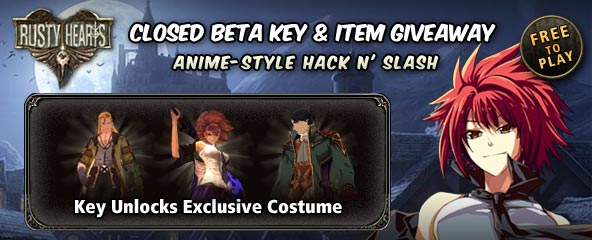 MMOBomb.com and Perfect World Entertainment are pleased to present our users with a invite to Rusty Hearts Closed Beta with a exclusive In-Game Item. To get your closed beta key you just need to click on the link bellow. Don't miss out on this offer.
Rusty Hearts is a free to play 3D fighting MMORPG game with advanced action features and combo moves, unique cel-shaded animation, fast-paced gameplay, anime-inspired graphics and a variety of PvP modes.
Your Beta key will unlock:
1. Costume that is exclusive to MMOBomb. The costume is specific to each character and players will receive the costume based on the first character they create.
· Frantz – Black Devil coat and pants
· Angela – Black Witch jacket and skirt
· Tude – Dark coat and pants
How to get and use your Key:
1. Log in to your MMOBomb account to get your key. If you don't have one, register for free HERE.
2. Copy and paste your key to a safe place as you may not be able to retrieve it once closing your browser.
3. Register for a free Perfect World account and redeem your key at http://rh.perfectworld.com/closedbeta
4. Make sure you never miss a giveaway, sign up for our daily newsletter, it´s free!
5. You will receive an email confirmation and the game client will be available on July 27, 2011.
Note:
-Items will automatically be applied to player accounts after a character has been created in CB.
-Previous users who have redeemed a Rusty Hearts Beta Key from MMOBomb will automatically get this item as well. Therefore, they won't have to redeem another key.
Trailer:
More Giveaways:
Games You May Like