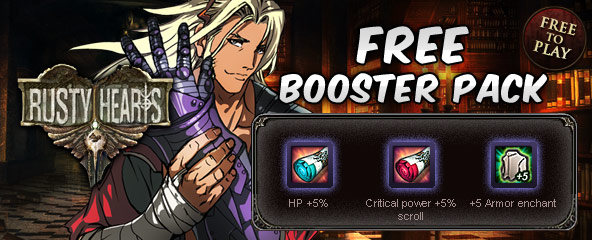 Rusty Hearts Item Key Giveaway (Booster Package)
FREE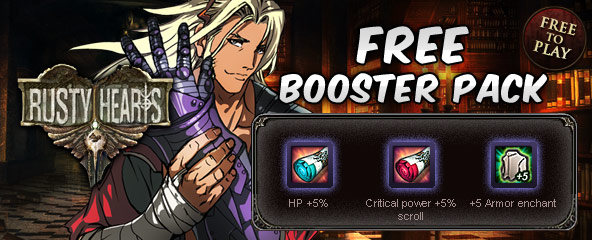 MMOBomb.com and Perfect World Entertainment are teaming up to bring you a Booster Package for Rusty Hearts that will include some bonus items such as HP, Armor or Critical power. This handy bundle will give you everything you need to help you earn a little independence. Don't miss out on this exclusive offer!
Rusty Hearts is a free to play 3D multiplayer online game with fast-paced and highly-stylized brawling combat combined with a solo or team-based dungeon exploration experience. Based on a gothic inspired world players will be able to unleash devastating combo attacks, engage in a wide variety of epic monster battles, collect valuable loot, and become a unique hero.
How to get and use your Key:
1. Log in to your MMOBomb account to get your key. If you don't have one, register for free HERE.
2. Copy and paste your key to a safe place as you may not be able to retrieve it once closing your browser.
3. Register for a Rusty Hearts account to play the game for free here: https://register.perfectworld.com/rhad2
4. Log into Rusty Hearts and create a character
5. Visit http://rh.perfectworld.com/redeem. If you are not already logged into your Perfect World account, you will be asked to do so.
6. Enter your exclusive code in the box, select the server and character you wish to receive the items and click "Submit."
7. Log into the game again. A small, flashing envelope under your health bar will indicate that you have received a new mail. Double-click the envelope to receive your items.
8. Make sure you never miss a giveaway, sign up for our daily newsletter, it´s free!
9. Enjoy your bonus content.
Description of booster package:
- HP +5%
- Critical power +5% scroll
- +5 Armor enchant – This allows players to enchant 1 armor by +5 permanently
and is not currently obtainable in-game.
Gameplay Preview
More Giveaways:
Games You May Like