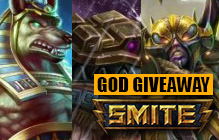 SMITE: Free Chaac, Anubis and Ah Muzen Caab Codes Giveaway
FREE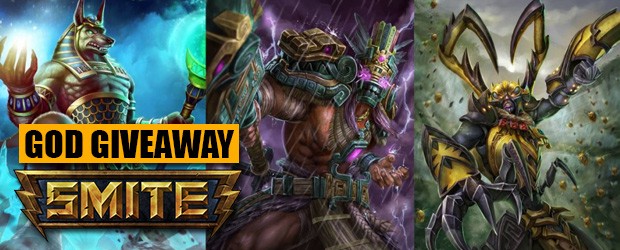 Share if you like this giveaway!
MMOBomb and Hi-Rez Studios have teamed up again to give our users 15 premium SMITE god codes. Each code will automatically grant Anubis, Chaac or Ah Muzen Caab, as well as their alternate color skin, when redeemed in game. To get a exclusive code, you just need to follow the instructions below:
How to get a SMITE God Code:
1. It´s easy, you just need to Register on MMOBomb and submit your email below to get free alerts on upcoming giveaways, we promise not to spam and, of course, you can always "unsubscribe" at any time! If you already follow MMOBomb giveaways via email you can skip step 1 and 2.
2. Check your email and locate the confirmation email. Click on the Confirmation Link in the Email to Complete Your Sign Up.
3. Choose one god and complete the following sentence: "I want to be (Anubis, Chaac or Ah Muzen Caab) because… ". Leave your sentence in the comments below, please make sure you use the email address you signed up for MMOBomb with. This is really important, if you do it with another email you won't be eligible to receive your prize.
We'll select the 15 lucky MMOBombers on May, 28 (2015), we'll be picking and notifying the winners via email, so please use a valid e-mail and check your accounts.
[divider type=""]
Lucky Winners:
Coming soon on May, 28 (2015)
- Frozen
- ZombieGirl
- neovisual
- Ninjakero
- JuviaLokser
- Caab
- Driad
- Thoron
- MrYumYumz
- happygamer
- EnmanuelBravo
- Vladislav
- DocteurV
- Modu
- Huchiama
Note:
Results may take a few days to be announced after the end of the giveaway.
More Giveaways:
Games You May Like