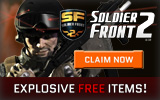 Soldier Front 2 Closed Beta Item Keys Giveaway
FREE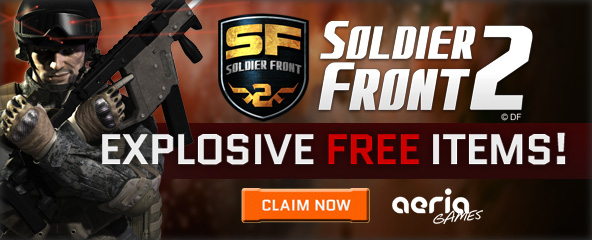 MMOBomb and Aeria Games have teamed up to give our users free in-game items for Soldier Front 2. To get your code key you just need to click on the button below.
Soldier Front 2, a new free to play 3D MMOFPS with a large amount of team combat modes, including a unique MOBA-style scenario.
How to get and use your Key:
1. Log in to your MMOBomb account to get your key. If you don't have one, register for free HERE.
2. Copy and paste your key to a safe place as you may not be able to retrieve it once closing your browser.
3. Download Soldier Front 2 HERE.
4. Login to Soldier Front 2 and create a character
5. Go HERE and enter your Gift Code in the box
6. Go to the Armory in game and check the gift tab for your items!
7. Make sure you never miss a giveaway, follow our updates via Facebook and Twitter!
8. Have Fun!
The beta Key Includes:
- SP and EXP Doubler
- Color Code Name Change
- Hot 3 Pack
- Icejam Pack
- Hunter Pack
- Delta Scout
Soldier Front 2 Gameplay Video:
More Giveaways:
Games You May Like