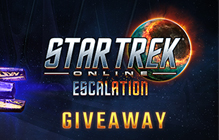 Star Trek Online Season 13 Weapon Giveaway (Xbox One)
FREE
To celebrate the console launch of Star Trek Online: Season 13 – Escalation, MMOBomb are teaming up with Perfect World Entertainment and Cryptic Studios to give 50 lucky winners a rare ground weapon for the game on Xbox One, the Fluidic Antiproton Wrist Lance.
To enter our giveaway you just need to complete the easy steps on the top. We'll select the 50 lucky MMOBombers on June 19, 2017, we'll be picking and notifying the winners via email, so please use a valid e-mail and check your accounts.
How to win a Key?
You must complete the actions on the top of the page. Hint: Get more entries by completing all of the actions!
How to redeem your reward:
*These codes are only eligible for the Xbox One version of Star Trek Online and can only be redeemed by one character on a single account. The weapon is bound to character upon pickup.
1. Install Star Trek Online from the Xbox One marketplace.
2. Upon launching Star Trek Online, you'll have the option to link your gamertag with an Arc account. This will open the Internet browser on your Xbox One and you can complete the account linking process there. If you skip it now, you'll have another opportunity later.
3. Once you're in Star Trek Online, select the Arc option.
4. Install Arc. (You can also search for Arc in the Xbox One Marketplace)
5. Launch Arc and hit the X button.
6. Enter your code in the field and select "Redeem."
7. Visit the C-Store. Rewards can be found on the tab marked "Promotions."
This reward contains the following item:
Fluidic Antiproton Wrist Lance:
Undine weaponry utilizes cohesive antiproton streams to damage foes. These streams are known to sometimes knock their opponents away while dealing additional physical damage. The primary fire of this particular wrist-mounted antiproton lance is similar to those adapted into Assault weapons that use this same energy technology. The secondary fire is radically different however, incorporating something akin to the "focused beam" technology sometimes seen in use on Undine starships. It can charge up a massive blast that will scar the surface of whatever the foe is standing on, sending out antiproton energy ripples that cause additional damage to anything they cross paths with.
Note:
1. Each code can be redeem just once and each person cannot redeem more than one of these codes.
2. These codes are only eligible for the Xbox One version of Star Trek Online and can only be redeemed by one character on a single account
About:
Star Trek Online Season 13 – Escalation is now live on PC, Xbox One and PS4! Learn more about this update by visiting the blog: http://www.arcgames.com/en/games/star-trek-online/news
More Giveaways:
Games You May Like