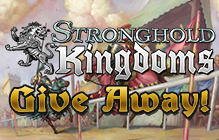 Stronghold Kingdoms Gift Key Giveaway
FREE
To celebrate the new Stronghold Kingdoms expansion, MMOBomb and Firefly Studios are teaming to get our readers a free gift key for Stronghold Kingdoms.
Each key contains cards packs, premium tokens, card points and more. To unlock your gift key instantly you just need to complete all the steps on the top.
Grab your key now and get into the action!
How to use your Key:
1. Register a new Stronghold Kingdoms account (or log into your already existent account).
2. Go to "My account" page, look at the section "redeem code."
3. Write the code in the white box, next to word "redeem code."
4. Click on "Redeem code."
5. Cards packs, premium tokens and card points can be found in Cards screen (icon on the top).
This key contains the following:
⦁ 5 Random Packs
⦁ 1 Super Random Pack
⦁ 1 Ultimate Random Pack
⦁ 5 Army Packs
⦁ 200 Card Points
⦁ 2x7-Day Premium Tokens
Note:
1. Each code can be redeem just once and each person cannot redeem more than one of these codes.
About:
Join thousands of players online on PC, Mac, and Mobile as you expand your medieval village and construct a mighty castle to protect it: farm peacefully, engage in political mind games, seek vengeance on your sworn enemies or lead your armies to glory across the country, Europe or the entire World. Rule as you desire and become a feudal Lord! Siege other players, battle AI opponents, research new weaponry, forge alliances in player Factions and fight for the eternal glory of your House...
More Giveaways:
Games You May Like