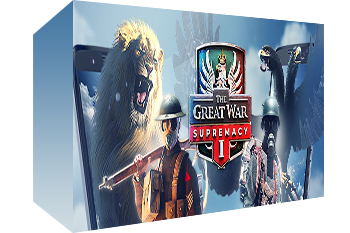 Supremacy 1 Premium Account Key Giveaway
FREE
MMOBomb and Bytro Labs have partnered up to score YOU a one month of High Command (Premium Account) for Supremacy 1: The Great War!
To unlock your key instantly you just need to complete all the steps on the top. Grab your key NOW while supplies last!
How to use your Key:
1. Complete all steps on the top to unlock your key
2. Create an account, and pass the tutorial.
3. Once you finish the tutorial, write on the "Write to Global" chat.
4. Once you are there type: /redeem XXXXX-XXXXXXXX (replace XXXXX-XXXXXXXX with your code and make sure the word redeem and the code are separated by a space) and press enter.
5. After that, you should get a "Voucher successfully redeemed!" message on the chat.
To see if it was successfully added to your account check your premium inventory on the top right. In there, with your 25 units of gold, you should see a High Command set for 31 days.
The code can only be used once, and you have until October 31st to redeem it.
This key contains the following:
⦁ One month of High Command (premium account)
Note:
1. Each key can be redeem just once and each person cannot redeem more than one of these keys.
About:
Supremacy 1: The Great War is a free-to-play game for browser and mobile platforms.
More Giveaways:
Games You May Like