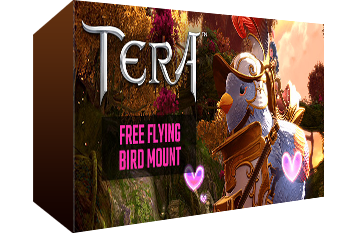 Tera: 7th Anniversary Key Giveaway
FREE
To celebrate the Tera 7th Anniversary, MMOBomb and En Masse Entertainment have partnered up to get our users a free gift Key with in-game items for Tera (North American version). Each key unlocks lots of consumables and accessories!
To unlock your key instantly you just need to complete all the steps on the top. Get your key now while supplies last!
How to use your Key:
1. Go to enmasse.com and create a new En Masse account or log into an existing one.
2. Click the "Redeem Code" button from the "Account Overview" page.
3. Enter your code and hit "Submit".
4. Launch TERA and log in. If you haven't installed TERA, download here.
5. Claim your items from your in-game Item Claim.
This key contains the following:
Consumables:
⦁ Bravery Potion (x10)
⦁ Lamb Bulgogi (x10)
⦁ Goddess's Blessing (x10)
⦁ Canephora Potion (x10)
Accessories:
⦁ Fizzy Water Gun (3 Days)
⦁ Rainbow Water Bomb (x20)
⦁ Water Bomb (x20)
⦁ Flying Skill: Swift Thrush (3 Days)
⦁ Starglow Costume Box (3-Day)
⦁ Starglow Weapon Skin Box (3-Day)
Note:
1. Each key can be redeem just once and each person cannot redeem more than one of these codes.
2. These keys are exclusively for the North American version of TERA on PC operated by En Masse Entertainment and cannot be redeemed for publishers in other regions. Players from Asia, Africa, or the Middle East are not eligible for this giveaway.
3. All keys expire on July 31, 2019 at 11:59 p.m. PDT
About:
TERA is at the forefront of a new breed of MMO. With True Action Combat - aim, dodge, and time your attacks for intense and rewarding tactical combat. Add the deep social experience of a MMO to best-in-class action combat mechanics for a unique blend of both genres.
More Giveaways:
Games You May Like