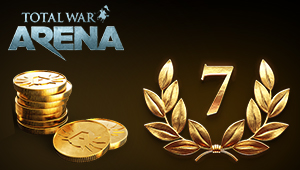 Total War Arena Bonus Codes Giveaway
FREE
Wargaming has granted MMOBomb thousands of bonus codes for Total War Arena to give away to our readers. Each code contains 500 gold and 7 days of Premium!
To unlock your code you just need to complete all the steps on the top.
Get your bonus code now while supplies last!
How to use your code:
1. Go to wargaming.net/shop/
2. Click on "Redeem Wargaming code" .
3. Log In with your account information.
4. Enter your code and click "REDEEM".
This code contains the following:
⦁ 7 days of Premium.
⦁ 500 gold
Note:
1. Each code can be redeem just once and each person cannot redeem more than one of these codes.
2. Valid to: 2018.10.31
Featured Video
About:
Total War: ARENA, developed by Creative Assembly, brings the Total War franchise tenets into the world of free-to-play gaming by blending the series' trademark strategic experiences with intense 10-vs-10 player battles.
More Giveaways:
Games You May Like