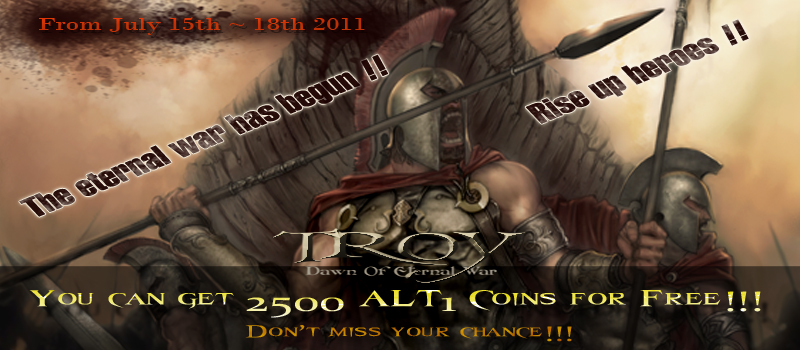 Troy Online 2nd Closed Beta Key and ALT1 Coins Giveaway
FREE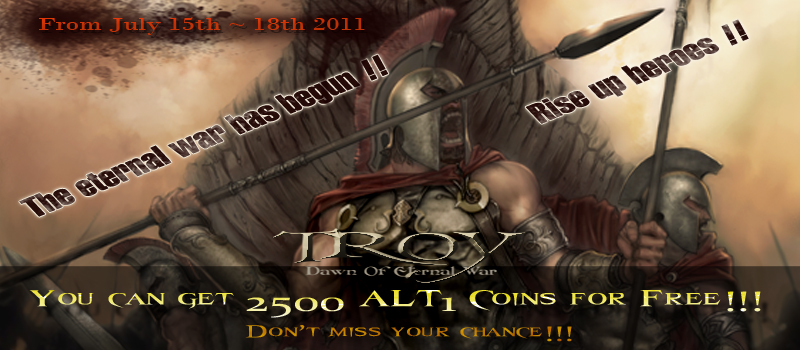 MMOBomb.com and Alt 1 Games are pleased to present our users with a invite to Troy Online 2nd Closed Beta. To get your closed beta key you just need to click on the button bellow. Troy's second closed beta test will begin on July 15th, 2011, at 10 AM PDT (UTC -7) and will last for four days (will end on July 18th at midnight PDT). ALT1 Games USA will also be giving away 2500 free ALT1 Games Coins to users that register with a beta event coupon key for this test.
Available features in the game will include equipment modifications such as level and power upgrades, socketable items, and armor combinations. A host of PVP battlefields will also be available, separated by objective and level. Troy will also allow for parties, including an instant dungeon group feature and guilds with different authority levels. Also, a second tier of classes will be available for players who reach the required level. During the second closed beta test, Troy will have open general, PVP, class, bug, and support forums to promote community discussions. Players can use this opportunity to test out Troy's cash shop for the new features coming next month. Players returning from the first closed beta test will also be rewarded for their dedication with 2500 ALT1 Coins. Don't miss out on your opportunity!
How to get and use your Key:
1. Log in to your MMOBomb account to get your key. If you don't have one, register for free HERE.
2. Copy and paste your key to a safe place as you may not be able to retrieve it once closing your browser.
3. Visit Troy Online and create an account.
4. Download the game client by clicking the "game download" button.
5. Fill out the requested information fully.
6. Log into your account and access the shop page and press the coupon button.
7. Enter your beta key in the beta event coupon key redemption box found on the coupon page
8. Make sure you never miss a giveaway, sign up for our daily newsletter, it´s free!
9. Log into the game and enjoy your reward!
Trailer
More Giveaways:
Games You May Like