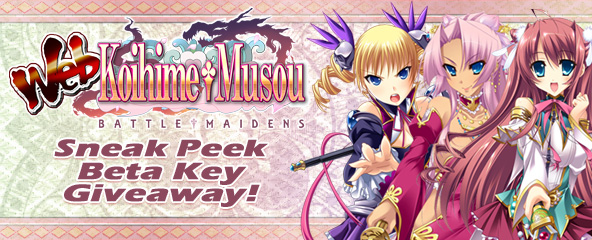 Web Koihime Musou Beta Key Giveaway
FREE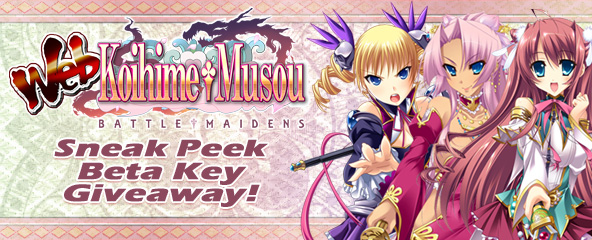 MMOBomb.com and Gamania are pleased to present our users with a invite to Web Koihime Musou Beta Sneak Peek. To get your beta code key you just need to click on the button bellow. Don't miss out on this offer!
Web Koihime Musou is a browser-based strategy simulation game based on the famous Japanese visual novel, animated series and IP, Koihime. As a Lord of either the Gi, Go, or Shoku Kingdom, players will partner with beautiful Warlords – all-girl versions of famous characters from Romance of the Three Kingdoms – to conquer and unite the Three Kingdoms.
How to get and use your Key:
1. Log in to your MMOBomb account to get your key. If you don't have one, register for free HERE.
2. Copy and paste your key to a safe place as you may not be able to retrieve it once closing your browser.
3. Download the below exe file to get the beanfun launcher
4. Double click the beanfun launcher icon on desktop (on April 10)
5. Select "Guest Login" from "Login Mode"
6. Enter your guest login beta key in "Code" then login
7. Select "Start Game"
8. Select "I have a promo code", then enter your promo code again
9. Select "Play" when you see your game account
10. Make sure you never miss a giveaway, sign up for our daily newsletter, it´s free!
11. Have Fun!
ATTENTION: Players won't be able to fully activate their keys until the beta begins on April 10.
Note:
Web Koihime Musou's Beta Sneak Peek will begin Tuesday, April 10, 2012, at 8:00 PM PDT / 3:00 UTC and end on April 24, 2012 at 8:00 PM PDT / 3:00 UTC. All game data will be wiped after April 24th 2012, for a fresh start for Closed Beta. You can find more info about Web Koihime Musou at http://us.beanfun.com/koihime/
More Giveaways:
Games You May Like