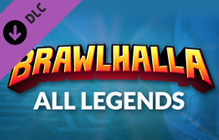 Win a Steam Key To Unlock all Legends in Brawlhalla! (Over $100 worth)
FREE
MMOBomb is teaming up with Blue Mammoth Games on a really special giveaway. 50 winners will win a Steam key with "Brawlhalla - All Legends Pack" (DLC). The All Legends Pack gets you immediate access to all current legends (over $100 worth) and every legend we add in the future of Brawlhalla.
We'll select the 50 lucky MMOBombers on November 07, 2017, we'll be picking and notifying the winners via email, so please use a valid e-mail and check your accounts.
How to win a Key?:
You must complete the actions on the top of the page. Hint: Get more entries by completing all of the actions!
Notes:
1. This DLC content requires the base game Brawlhalla on Steam (free to play) in order to play.
About:
Brawlhalla: An eternal battle arena where the greatest warriors in history brawl to prove who's the best that ever was, is, or will be. Competitors from all eras slug it out in devious and challenging arenas. Every match is an epic test of skill, speed, and strength, and every victory brings additional glory and bragging rights to the winners.
More Giveaways:
Games You May Like