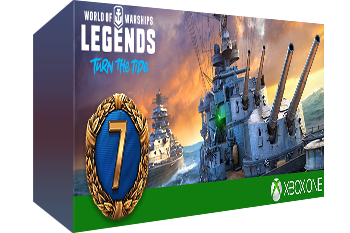 World of Warships: Legends Gift Pack Code Giveaway (Xbox One)
FREE
MMOBomb and Wargaming have partnered up to get our users a free Gift Pack Code with in-game items for World of Warships: Legends (Xbox One). Each code unlocks 7 Premium Days, Boosters and more!
To unlock your code instantly you just need to complete all the steps on the top. Get your code now and conquer the seas!
How to use your Key:
1. Sign in to your Xbox One (make sure you're signed in with the Microsoft account you want to redeem the code with).
2. Press the Xbox button to open the guide, then select Home.
3. Scroll right and choose the Store tab.
4. Choose Use a code.
5. Enter the 25-character code, then follow the prompts. Don't worry about hyphens, the system takes care of those for you.
This key contains the following:
⦁ 7 Premium Days
⦁ 5 ShipXP t2 Boosters
⦁ 5 Credits t2 Boosters
⦁ 5 CrewXP t2 Boosters
⦁ 5 FreeXP t2 Boosters
⦁ 5 Universal Battle t2 Boosters
Note:
1. Each code can be redeem just once and each person cannot redeem more than one of these codes.
About:
World of Warships: Legends is celebrating the Cross-Platform Play and which will allow PlayStation 4 and Xbox One players to play against each other...
More Giveaways:
Games You May Like