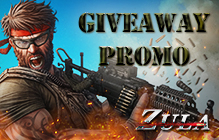 Zula Gift Key Giveaway (NA Only)
FREE
MMOBomb and Gamigo are teaming to get our readers (North America Only) a free gift key for Zula. Each key contains several special weapons, card decks and materials.
To unlock your gift key instantly you just need to complete all the steps on the top.
Grab your key now and get into the action!
How to use your Key:
1. Register here and download the game.
2. Login into your newly created Gamigo account;
3. Click on the Redeem Voucher Option into your account;
4. Enter the given code and deplete it. All done!
This key contains the following:
⦁ Fateh for 7 Days
⦁ MPT-76 for 7 Days
⦁ Kar98 for 7 Days
⦁ L115A3 for 7 Days
⦁ Assault Deck 1 Use
⦁ Sniper Deck, 1 Use
⦁ 100 Materials, 2 Uses
Note:
1. Each code can be redeem just once and each person cannot redeem more than one of these codes.
2. North America only.
About:
Zula is the free-to-play first-person shooter that puts you right onto real-life battlefields – no limits, no laws, no mercy. There is only one rule: fight! Discover 18 unique maps with 5 real-life locations, such as Paris, Northern Iraq and Istanbul. ...
More Giveaways:
Games You May Like