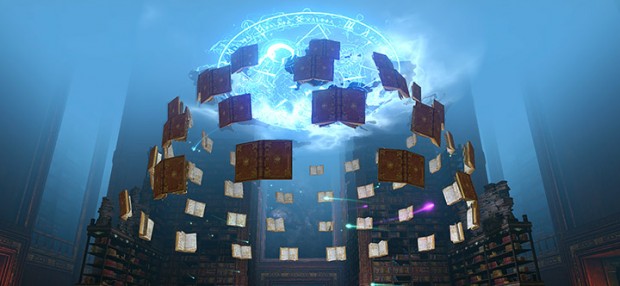 Need a little boost while playing some ArcheAge? Well Trion Worlds has unveiled the "Power Unbound" event and it runs from now until August 10th. The free to play MMORPG has added a crafting station on Mirage Isle and players who bring 10 Papers and 2 Blue Salt Hammers can craft an Unidentified Grimoire. This craft doesn't cost any Labor Points, by the way.
Open that bad boy up and you'll receive 1 of 9 possible scrolls that can either be used and consumed or traded. Here's the list of possibilities:
Experience Grimoire – Increases XP gain by +20%.
Ward Grimoire – Decrease received damage by 5%.
Promise Grimoire – Increases all stats by +70.
Healing Grimoire – Restores 30% of Max Health (120sec cooldown).
Haste Grimoire – Increases Move Speed +10%.
Greedy Grimoire – Increases loot drop rate +10%.
Zeal Grimoire – Increases skill damage and received healing by +4%.
Frenzy Grimoire – Decreases combat skill cooldown by 10%.
Meditation Grimoire – Restores 18% of Max Mana every 2.5sec for 10sec. Moving or taking action ends the mana restoration (120sec cooldown).
Check out the ArcheAge website for more information.