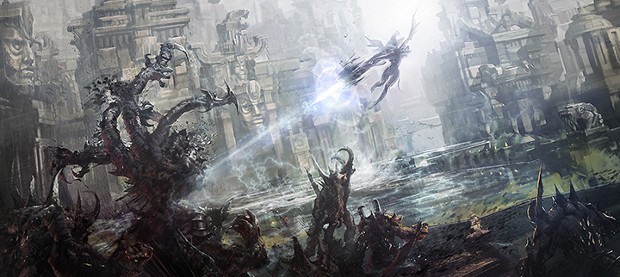 UPDATE
As of now, the update is officially launched on the live servers, introducing the increased level cap and the Halloween event — which kicks off today.
Trion has also introduced four new Devilian packs ranging in price from $9.99 to $99.99 — contnaining $30 to $315 worth of items respectively. The full list of items available for each pack can be found in the latest Devilian blog post.
ORIGINAL POST (Oct 19, 2016)
A new update is hitting Devilian's PTS and increasing the level cap to 58 and Alvir's Artifacts to +12. This means there are new gear sets and other perks.
The update adds new Hell and Heroic versions of the Blasphemous Labyrinth, Infested Manor, Silent Convent, and Nightmare Labyrinth dungeons and Heroic versions of the Archdevil Dungeons: Dread Ruins and Agony Device.
In addition to that, players can also look forward to the Halloween Festival — starting in two days on the 21st. During the event, you'll be able to collect candy by killing monsters and beating dungeons. The candy can then be exchanged for special Halloween themed items.
For full details on the update, including a list of general changes, head on over to the Devilian forums.