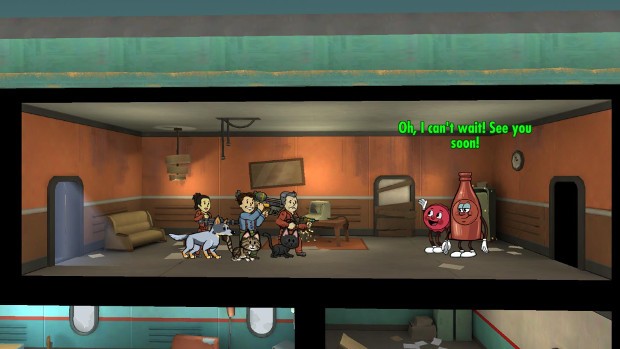 Bethesda's free-to-play Fallout spinoff, Fallout Shelter has been issued an all new update which introduces new quests and Bottle and Cappy, the mascots from Fallout 4's most recent DLC Nuka-World.
New quests have been added to the Overseer's Office, including new types of quests such as Weekly and Special Event quests. Weekly quests will appear every Friday while special events will be less regular and cover holidays. Another addition is the ability for players to skip quests by spending Nuka-Cola Quantum.
Speaking of Nuka-Cola, Bethesda is celebrating the launch of the Nuka-World Fallout 4 DLC with a Special Event Quest — a Nuka-World themed mission. Once complete, players can welcome Bottle and Cappy to their vault for a limited time. Tapping on the mascots during their visit will offer players rewards of Caps and Nuka-Cola Quantum.
More information on the update is available on the Fallout Shelter site.