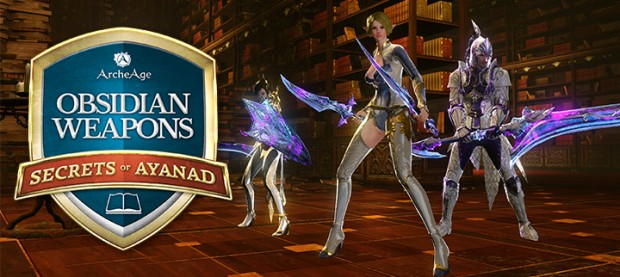 If you're an ArcheAge fan and you like long quests, lots of crafting, and a fair amount of work to get an awesome weapon (a la Final Fantasy XIV), the new Obsidian Weapon quest line that will be added in the Secrets of Ayanad update for Trion Worlds' free-to-play MMORPG should fit the bill.
Obsidian weapons can be crafted and will be found in the Carpentry and Weaponry sections of your folio. No proficiency is required to do the actual crafting, but you'll be putting a lot of work into obtaining one of these weapons.
Just to get the first tier of these new weapons, there are 6 total tiers, players will have to undergo a series of quests to collect the materials (some are held by level 51+ creatures, others are held only by library bosses and notorious creatures) and to actually craft the weapon itself.
Crafting of Obsidian weapons is a bit more straightforward than ArcheAge players may be used to though as Obsidian weapons have static stats determined by rarity grade. This also means that you can combine stats that otherwise would be impossible to combine on regular weaponry. Want to add healing to your shortspear? Go ahead!
For more details, check out the official announcement.