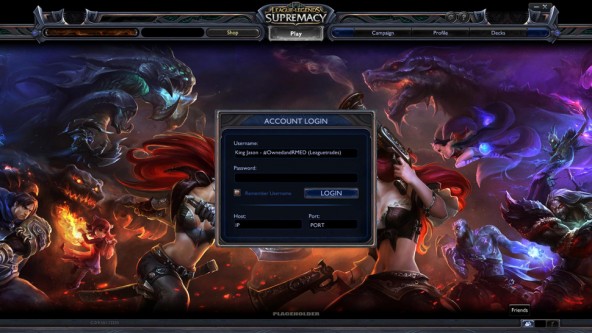 Developers often go through the process of designing prototypes for new games or ideas which the public normally never sees. Sometimes these prototypes make it really far into development, as was the case of Riot Games' recent exploratory attempt at creating a Trading Card game based on their ever popular League of Legends universe. A hacker managed to take over the Twitter account of Riot's president and co-founder Marc Merrill and swiftly went about unearthing a treasure trove of images including a placeholder login screen and various deck card templates relating to a standalone TCG titled League of Legends: Supremacy.
According to the hacker, Supremacy was/is a completely standalone game, which apparently was "fully completed", but obviously never released. The hacker went on to say he'd upload even more images of Supremacy, including full card images unless Marc Merrill emailed him not to. An hour later the hacker apparently had a change of heart and stated that he'd "decided to give marc his twitter back."
Shortly after, Merrill regained control of his Twitter account and promptly deleted the offender's Tweets. Merrill went on to say that while the images of Supremacy were indeed legit, they were old and only represented one of the many prototypes Riot had experimented with. At this time though, it appears as though Riot will be keeping Supremacy in the vault, with no plans on releasing the TCG.
Source: Kotaku.