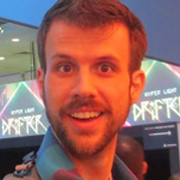 Michael Dunaway
News Editor
Michael Dunaway has been part of the MMOBomb team for years and has covered practically every major Free-to-Play title since 2009.
Latest from Michael Dunaway
I'm Stepping Down as Editor-in-Chief
Yes, amidst all the exciting news regarding the website's latest improvements and the return of one of MMOBomb's most beloved editors, I'll be taking this opportunity to relinquish my post as Editor-in-Chief in order to pursue a...
By Michael Dunaway - 8 years ago
Black Desert Preview - Korean Closed Beta 3
Spunkify takes viewers through a preview of the final Korean closed beta test for the upcoming Hack-n-Slash action MMORPG, Black Desert Online.
By Michael Dunaway - 8 years ago
Free To Play Weekly – Deep Down, ArcheAge, Skyforge, (ep.140)
New gameplay for Deep Down surfaces at the Tokyo Game Show, Champions Online receives its first major content update in years, Allods Team discusses Skyforge's PvP modes and ArcheAge officially launches for everyone.
By Michael Dunaway - 8 years ago
Albion Online - Gameplay First Look
Albion Online is a cross-platform sandbox MMORPG where players can create their own custom class thanks to skills being tied to each piece of armor.
By Michael Dunaway - 8 years ago
Sandbox in my shoes - Albion Online Bomblive
Today on Bomblive, Spunkify returns to the Alpha worlds of Albion Online, where he's heard rumors of new mechanics making their way into the Ultima Online inspired MMO.
By Michael Dunaway - 8 years ago