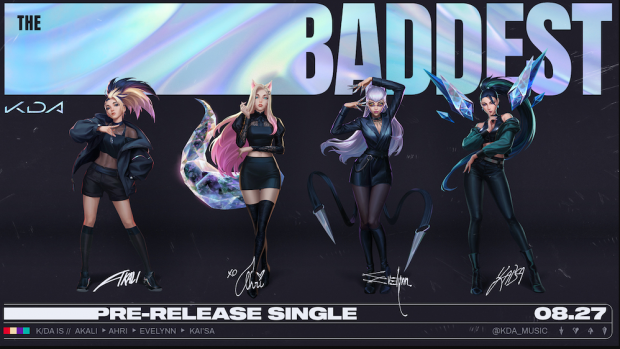 It's been about 2 years since we've heard form K/DA after Ahri, Kai'Sa, Evelynn, and Akali from League of Legends dropped the single "POP/STARS" on the world and had it rise to the tops of multiple worldwide music charts. I had all but forgotten about them until I recently streamed DJMAX Respect and found the K-pop hit as a playable song.
Today the girls return with their new single "THE BADDEST" and they tease their new upcoming EP…but we'll have to wait for details on that project or any release date. You can check out "THE BADDEST" in the video below. In my opinion, it isn't as catchy as their original hit, but it's also trying to hit a wider audience. Where "POP/STARS" went straight at K-pop fans, "THE BADDEST" tries to branch out into general pop from other cultures.
This time around, SOYEON and MIYEON of K-pop girl group (G)I-DLE return from "POP/STARS" and are joined by new collaborators, Bea Miller and Wolftyla. The upcoming EP will also feature collaborations from other artists as Riot Games Music wants the future of the group to be about the characters and not any single vocalist.
Check out the video and let us know which K/DA song reigns supreme in your mind below!