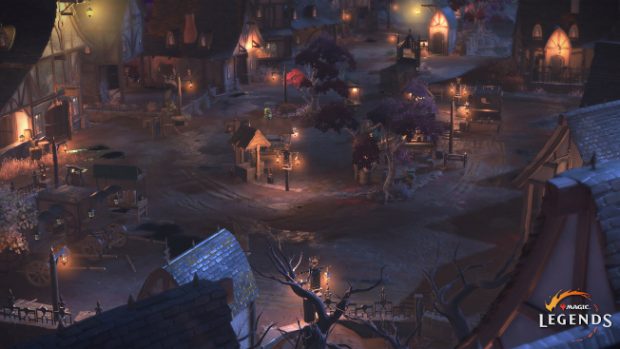 On Magic: Legends' Plane of Innistrad sits Gavony, a dark and brooding province, and the subject of today's dev blog on environment art. The blog covers the challenges inherent in designing for more mysterious and gloomy environments.
With the current Magic: Legends development system, one region is created at a time so that the artists can all work together to get things right and ensure consistency throughout the game. This process also allows the developers to bring what they learned creating previous levels into the current project.
In the case of Gavony, the design was broken up into three phases: Gameplay, History and Culture, and Polish. The gameplay phase includes replacing placeholders with actual art, establishing basic lighting and atmosphere, and placing art to support the story. History and culture fills out the world with details to make it feel more real, finalizes lighting and atmosphere, and adds culture kits that support the lore. Finally, the polish phase tweaks fine details, fixes bugs, and takes care of last minute changes.
The artistic development of Gavony required the development of new props in the previously mentioned culture kits. These props help create a realistic world, but developers have to be careful not to repeat the same items in every region. So, they created a new set. Otherwise, Gavony would have simply felt like a dark version of previous maps.
The end result — as can be seen in the images on the dev blog — is a gloomy region ready to explore.