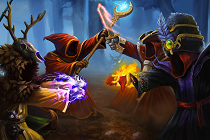 Forget beta — Paradox Interactive is taking Magicka: Wizard Wars straight from early access into a full launch later this month.
On April 28, the free-to-play wizard-vs.-wizard battler will make its official launch, after a year-plus as an early access title. Prior to that, a patch on April 14 will add a new game mode, Soul Harvest, as well as "Try Before You Die," which lets you sample spells before purchasing them, and — perhaps most importantly to budget-conscious gamers —
"A fully revamped in-game economy allowing all items to be purchased for crowns, earnable via gameplay or available for in-game purchase"
That change is part of an overall rework of the game's economy and progression system, which you can read about in more detail in the patch notes. Just try not to incinerate yourself in the process.