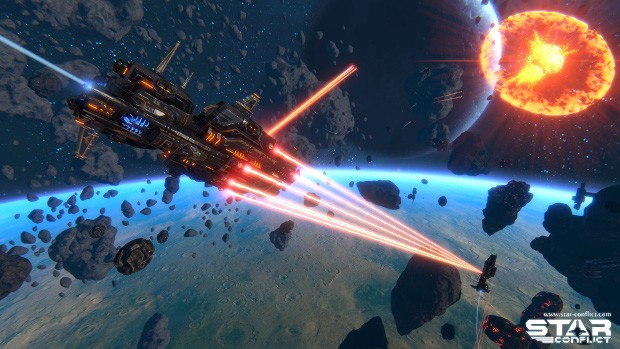 Today marks the 55th anniversary of the first human to ever be launched into space. To celebrate the achievement of cosmonaut Yuri Gagarin and the Vostok program he was a part of, Star Conflict is holding a series of "Gold Battles" throughout the week. The event will last until the 18th, during which time players can earn Galactic Standards for their victories in the Gold Battles. The rewards break down as follows:
50 GS for the 5th victory
50 GS for the 10th victory
100 GS for the 20th victory
100 GS for the 40th victory
200 GS for the 60th victory
Players who participate in the event will also gain the special achievement 'Cosmonautics Day.'
In addition to the event, players can also look forward to new premium ships coming in the new 1.3.5 update. These ships can be bought using Galactic Standards, so it's probably a really good thing there's an event offering a lot of those as rewards right now.
More information on both the event and the update are available on the Star Conflict site.