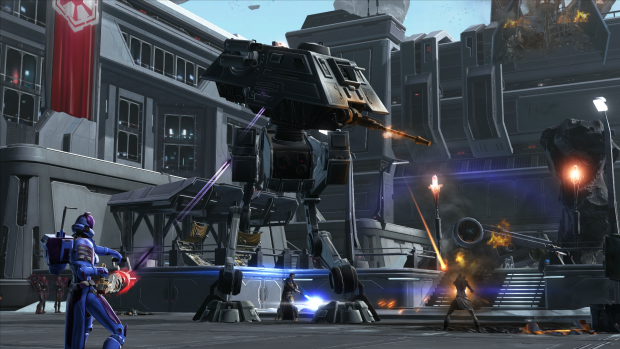 The march to BioWare's upcoming expansion continues with news that Knights of the Fallen Empire will be bringing quite a few changes to the way combat (and other items) are handled in Star Wars: The Old Republic. In addition to reworking the way a few stats behave, the free to play MMORPG will also be introducing a Level Sync option….well maybe "option" isn't really the right word.
According to the dev blog, high level players will now automatically have their level reduced to match the level of the planet they are visiting in game. Stats, armor, and weapon damage will also scale accordingly. This sync also allows players to gain experience commensurate with their actual level for going back and exploring quests they may have skipped on their run towards level cap. The sync feature does come with a downside though, currently it isn't optional. You can't visit a planet as a level 65 even if you wanted to do so. That, and concerns with planets that have essentially two level ranges (for those heroic zones you come back later to complete) seem to be the largest concerns on the game's forums at this time. If you were used to going back and rolling through lower level items for cosmetic or achievement reasons it's a valid concern.
On the combat side of things, "Strength, Willpower, Cunning, and Aim have all been replaced by a single stat called Mastery. For all intents and purposes, Mastery acts identically to the primary stat it replaced." Surge has been removed as a stat and Endurance will provide slightly more HP per point than it did previously. The removal of Surge plays a key factor in how Critical Hit and Critical Rating change the way your damage output works so be sure to read the details in the dev blog.
The forums seem to like the content changes and kind of like the level sync feature (with a few concerns out there), but what do you think? Would you rather have had actual raid or dungeon content added to this "expansion?" Let us know below.