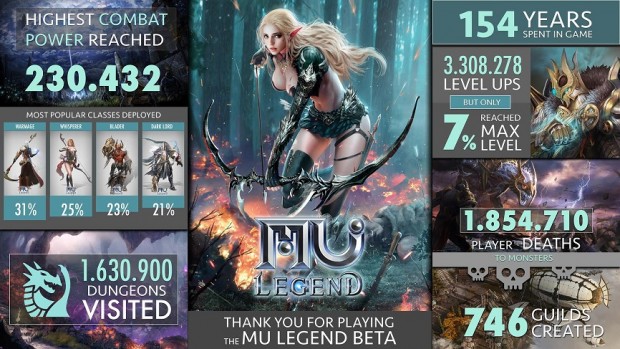 We could all use more infographics in our lives, right? Today's entry comes from Webzen and touts the success of Mu Legend's global closed beta test.
As you can see, players spent a combined 154 years, which translates into nearly five billion seconds, in the game during the CBT. The most popular class was the warmage, while the poor dark lord only got love from 21% of players. Meanwhile, 1.6 million dungeons were "visited," which makes you wonder: Did the visitors bring gifts? Did they wipe their feet?
Another global beta test is scheduled for 2017, with plans to localize the game into French, German, Brazilian-Portuguese, Spanish, and Polish. You can sign up on the Mu Legend website.