Simply Marvel-ous: Marvel Heroes Review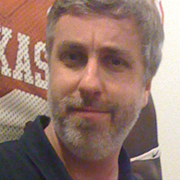 By
Jason Winter
, News Editor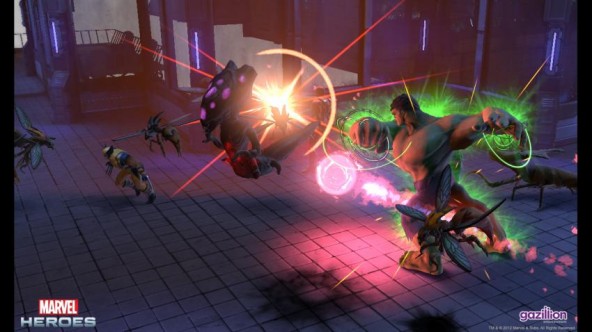 First things first... yes, Marvel Heroes is basically Diablo (or Torchlight, or Path of Exile) with superheroes. The game makes no apologies for this. Its Steam page lists reviews from various sites, nearly all of which make the connection, and Gazillion President David Brevik was one of the guiding minds behind Diablo, so the lineage is obvious.
If that's not an issue for you, slap on some spandex and prepare yourself for some of the most fun you can have with a free-to-play game. And yes, it actually is free-to-play.
Dazzling
The first thing you'll likely notice is the good production values. Character models and environments are crisp and detailed, many objects in the environment have physics associated with them (thanks, Unreal Engine!), and the voiced and semi-animated cut scenes are lots of fun to watch.
You start by picking one of five "free" heroes – Hawkeye, Storm, Daredevil, Scarlet Witch, or the Thing – with access to other heroes being available via the cash shop (more on that later) or as rare drops in the world.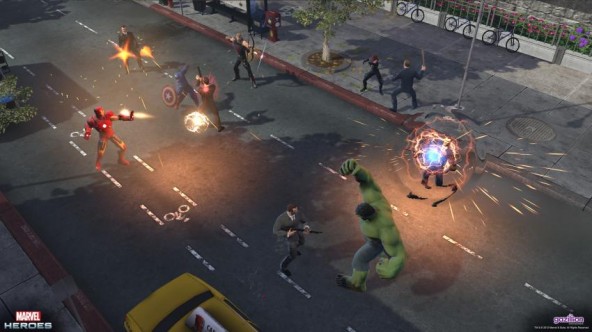 Gameplay is, well, typically Diablo-like. You have powers bound to your left and right mouse buttons and a few keys, enemies drop loot of various rarities, you advance your hero's abilities through power trees, there are boss battles with notable Marvel villains – no major surprises here.
So why should you play Marvel Heroes? First, there's an open world, something that came as a bit of a surprise to me, as I had the total Diablo single-player/small group mentality. World bosses, in the form of super-tough villains like Venom or Electro, occasionally spawn, which require the combined efforts of dozens of heroes to take down.
There are plenty of places to explore alone or with a friend or two, and when you do hit a five-man instance, the game conveniently forms you up in a party with other eager players. Don't be fooled by its look or subject matter – Marvel Heroes is an MMORPG in every sense of the term.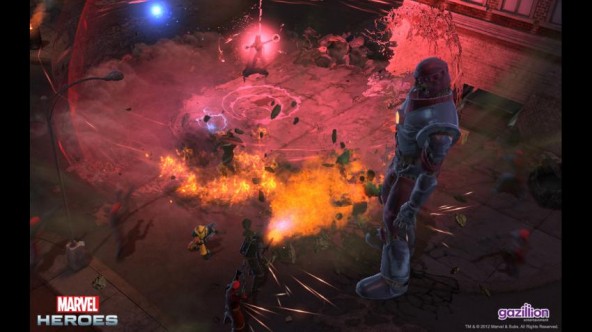 Beastly
Naturally, the action can get a little monotonous, as you slay countless mobs, pick up drops, and repeat ad infinitum, but there are at least a decent range of environments for you to explore. I checked out a stream of level 35+ endgame content, in which a 10-man "raid" group wreaked Havok – er, havoc – though hundreds of mobs in minutes, with so many special effects, I could barely differentiate friend from foe. Comes with the territory, I guess.
Another issue people might be troubled by is the lack of customization and individuality. This isn't City of Heroes or DC Universe Online, where you can customize your character's look and identity to your heart's content. If you're playing as the Hulk, you'll see plenty of other Hulks wandering around, and maybe even joining your party. You can alter your look somewhat with costumes from the cash shop, and two Hulks might be specced differently, so at least there's that.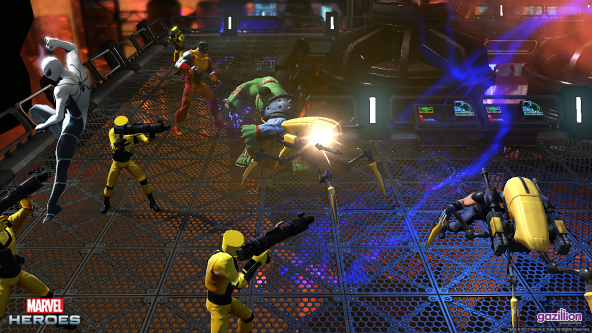 Speaking of the cash shop, it looks as unobtrusive as can be. New heroes will run you about $6 to $12, with a couple (Deadpool and Spider-Man) currently going for $20. New costumes range from $5 to $15, and various pets, XP/loot boosts, extra storage, and other services for around $3-$5. You can also buy high-priced packs that bundle together heroes and costumes and random boosts.
None of this is needed to play the game or experience content. If you like your starting hero, you can play him or her forever and never need to spend a dime. Shelling out a few bucks for a hero you enjoy is hardly overtaxing, and there's no "pay to win" aspect, unless you count the possibility of a small increase in loot gain chances (5%) as such.
A Worthwhile Gambit
I've grown so used to playing in betas lately that I almost forgot that Marvel Heroes was actually launched when I played it. The polish shows, and, as long as I don't find the wholesale slaughter of Kingpin's minions too monotonous, I think I'll be playing it for a good long while. If you like superheroes and this style of gameplay, you'll want to check it out. It's a solid win.
---
About the Author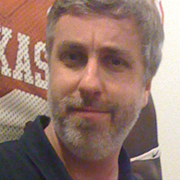 Jason Winter
,
News Editor
Jason Winter is a veteran gaming journalist, he brings a wide range of experience to MMOBomb, including two years with Beckett Media where he served as the editor of the leading gaming magazine Massive Online Gamer. He has also written professionally for several gaming websites.
---
Read Next
You May Enjoy