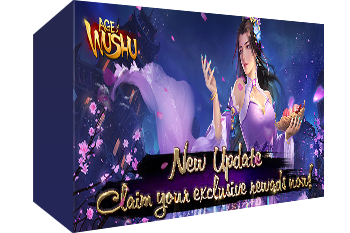 Age of Wushu Gift Key Giveaway
FREE
To celebrate the latest update, MMOBomb and Snail Games have partnered up to score YOU gift keys with in-game items for Age of Wushu.
To unlock your key instantly you just need to complete all the steps on the top. Please follow the instructions below to redeem your key.
Grab your key NOW while supplies last!
How to use your Key:

1. Complete all steps on the top to unlock your key
2. Start the game.
3. Find the NPC "Reward Ambassador" and talk to him (Screenshot in your left).
4. Input your key.
5. You will get the rewards through your inbox in several minutes due to the delay.
This key contains the following:
⦁ 2 Traveling Tokens,
⦁ 10 Hero Tokens,
⦁ 10 Five-Realm Demon-Slaying Items,
⦁ 1 School Support Pack,
⦁ 3 Ten Aroma Pills,
⦁ 3 Battlefield Points 100,
⦁ 3 Wuji Challenge Tokens,
⦁ 2 Warmth Bringer,
⦁ 1 Windrider (7 days trail),
⦁ 1 Jade Hare Xiao Yi(30 days trail),
⦁ 1 Juedi(15 days trail)
Note:
1. Each key can be redeem just once and each person cannot redeem more than one of these keys.
About:
After one year of the polishing and localization, Snail Games is finally done the preparation of Age of Wushu special chapter! In this chapter, players will experience four newly developed advanced flying skills, redesigned Apprentice system, the new instance, the new weapon and the warmth of their home...
More Giveaways:
Games You May Like