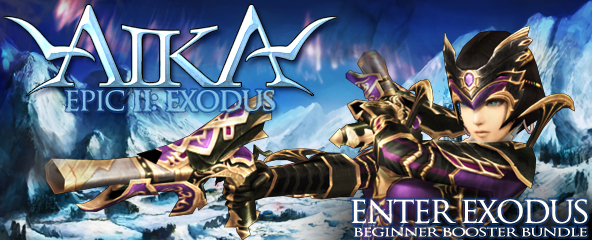 Aika Enter Exodus: Beginner Booster Bundle Giveaway
FREE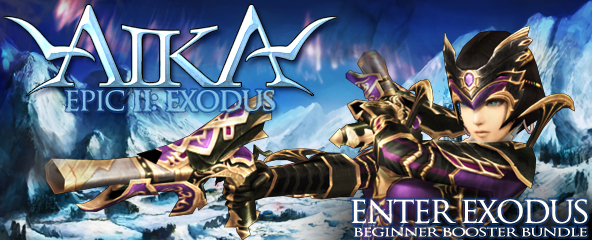 Aika Online has launched today into a new era with Epic II: Exodus, the first expansion to this critically-acclaimed MMORPG. To get ready for the battles ahead, gPotato and MMOBomb are teaming up to bring you the Enter Exodus: Beginner Booster Bundle! Scroll boxes, life saving potions, and robust weapons are at the ready those brave enough to save Lakia and delve into the frozen wastelands of Traband.
Aika Online is an epic fantasy MMORPG developed by JoyImpact (now part of HanbitSoft), creators of Neo Steam: The Shattered Continent. Five nations vie against one another for control of Arcan in massive castle sieges, relic thefts, and customized battlegrounds, waging war on a scale never before seen in an MMORPG. Players take a pivotal role in this drama as they choose one of six classes, each of which undergoes multiple evolutions. The Korea Game Industry Agency (KoGIA) awarded Aika the prestigious 2009 Best of Show: Prime Minister's Award, Player's Choice: Best Online Game, and Best Game Design & Scenario. Users can download the game and find out more about Aika Online at http://aika.gpotato.com.
How to get and use your Key:
1. Log in to your MMOBomb account to get your key. If you don't have one, register for free HERE.
2. Copy and paste your key to a safe place as you may not be able to retrieve it once closing your browser.
3. Create a gPotato account and login.
4. Visit https://billing.gpotato.com/Fillup/FillupFrm.asp
5. Input your coupon code and click "Fill-Up Now".
6. Login to Aika and press the "T" key to receive your bundle!
7. Make sure you never miss a giveaway, sign up for our daily newsletter, it´s free!
8. You're all set to go! Have Fun!
Giveaway Schedule:
- Giveaway will begin on August 11th, 2011
- Giveaway will end on August 25th, 2011
Bundle Items:
1. Potion and Scroll Box
2. XP Mark (15-day)
3. Random weapon
4. Potions of Defense / Potions of Arcane Defense (x3)
5. Random Pran Costume
6. Raffle: ONE mount and saddle combo to be awarded by random selection
More Giveaways:
Games You May Like