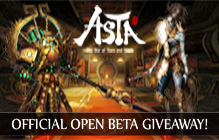 Asta Open Beta Gift Pack Giveaway
FREE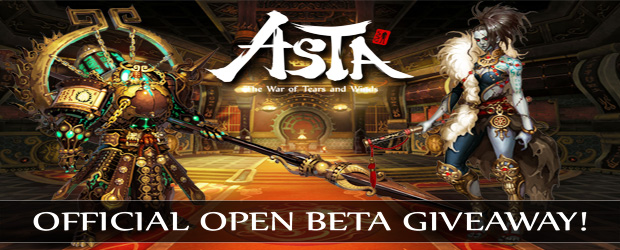 class="aligncenter size-full wp-image-48856" />
To celebrate the open beta launch of ASTA, MMOBomb has partnered with Webzen to bring our members an exclusive gift pack, the key will unlock lots of useful items for Asta. To get your code key you just need to click on the button below. Get your key now while supplies last!
ASTA – The War of Tears and Winds is a fantasy MMORPG inspired by Asian myths and legends, set in a vast and vibrant world filled with colourful environments and unique characters.
How to get and use your Key:
Please read and follow the instructions bellow:
1. Log in to your MMOBomb account. If you don't have one, register for free target="_blank">HERE.
2. Click on the big yellow button at the top. Copy and paste your key to a safe place as you may not be able to retrieve it once closing your browser.
3. Go to http://www.webzen.com/Coupon
4. Log in with your account
5. Select the server you want to receive the item(s) on
6. Enter the Coupon Code (without hyphens)
7. Click Continue/OK
8. The item(s) will be delivered to the account's Shop Storage on the selected server (there is a guide on the shop / shop storage available as part of our FAQs here: http://cs.webzen.com/FAQ/Read/223/2035/1747)
9. Make sure you never miss a giveaway, follow our updates via href="http://www.facebook.com/mmobomb" target="_blank">Facebook, Twitter!
10. Enjoy the game! Have Fun!
*There is also a general FAQ entry regarding the coupon system here: http://cs.webzen.com/FAQ/Read/223/2035/1748
This code contains the following items:
⦁ Pocket of 20 Soul Stones
⦁ Arita's Blessing (1 Hour)
⦁ Urma's Blessing (1 Hour)
⦁ Noble Stone
⦁ Noble Soul
⦁ Elixir of Dowa
⦁ River of Three Crossings Water
⦁ Fairy Gift
Note:
1. After redeeming the coupon, players will have 365 days to transfer the items to a character. Please note that you should create a character before redeeming coupon codes!
2. Coupon codes can only be used with an existing WEBZEN account
3. Coupon codes are limited to one use per account
Gameplay Video:
Need Help?
Having problems with your key? Please visit our help center href="https://www.mmobomb.com/help" target="_blank">HERE.
More Giveaways:
Games You May Like