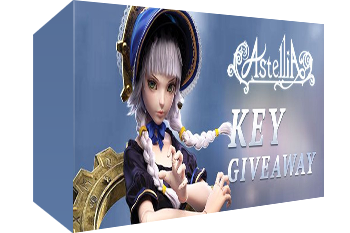 Astellia Online Closed Beta 2 Giveaway
FREE
MMOBomb and Astellia Online Team have partnered up to get our users a free Beta Key for Astellia Online. Each key grants access to the Closed Beta 2 Test and the beta test begins on July 30th and concludes on August 5th. This giveaway only gives access to Closed Beta 2 and is not guaranteed to grant access to future tests.
To unlock your key instantly you just need to complete all the steps on the top. Get your key now while supplies last!
How to use your Key:
1. Complete all steps to unlock your key.
2. Create an account at https://www.astellia-mmo.com/account
3. Verify account through email
4. Sign in and locate "My Account" button in upper right (next to Buy Now)
5. Click "Coupon" button, or navigate to your account page and click
the tab labeled "Coupon"
6. Enter code and hit redeem now, you are now activated
This key contains the following:
⦁ Access to the Closed Beta 2 Test for Astellia Online.
Note:
1. Each code can be redeem just once and each person cannot redeem more than one of these codes.
About:
Astellia Online is a Classical MMORPG striving to return the genre to its roots. That is not to say it is a remake of what has been done before, but instead, a tribute to the original tenants of the MMORPG Phenomena combined with innovation and promise...
More Giveaways:
Games You May Like