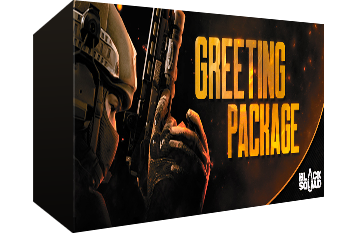 Black Squad: Greeting Package Steam Key Giveaway
FREE
MMOBomb and NS STUDIO have partnered up to get our users a free Greeting Package Key with in-game items for Black Squad. Each key unlocks G36 GL Damascus Gold, Desert Eagle Neon Red, DSR-1 Crania and much more!
To unlock your key instantly you just need to complete all the steps on the top. Get your key now while supplies last!
How to use your Key:
1. Complete all steps to unlock your key.
2. Install Black Squad here.
3. Launch Steam Client
4. Locate ''Add a Game'' on the bottom left hand corner.
5. Select ''Activate a Product on Steam''
6. Enter the Steam Key in ''Product Code''
7. Claim your rewards in-game!
This key contains the following:
⦁ G36 GL DAMASCUS GOLD (Permanent)
⦁ Desert Eagle Neon Red (30 Days)
⦁ DSR1 Crania (30 Days)
⦁ Nimravus Baroque (30 Days)
⦁ Fire Footstep Effect (30 Days)
⦁ Fire Chest Effect (30 Days)
⦁ Skeleton Jayce (30 Days)
⦁ M18 SMOKE TROPEN BLUE (30 Days)
⦁ M67 H/G Halloween (30 Days)
Note:
1. Each code can be redeem just once and each person cannot redeem more than one of these codes.
About:
Black Squad is a free-to-play military first-person-shooter that has just left Early Access on Steam! Players can master their skills and show off their strategies with a wide range of game maps, modes, and weapons, to choose from. Join thousands of FPS players worldwide and go Solo/Duo or co-op with up to 4 friends in Squad!
More Giveaways:
Games You May Like