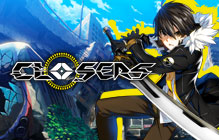 Closers Alpha Key Giveaway
FREE
MMOBomb.com, En Masse and LootXP have all teamed up to score YOU alpha access to the upcoming action RPG Closers!
This key will grant access to the alpha test starting on Friday, September 29 at 9AM PDT, and all subsequent weekend alpha tests!
To unlock your closed beta key you just need to complete all the steps on the top. Get your key now while supplies last!
How to use your Key:
1. If you don't already have one, sign up for an En Masse account at https://account.enmasse.com/closers/sign-up
2. Download the En Masse launcher at http://closers.enmasse.com/download
3. Install and run the launcher and sign in with your En Masse account.
4. Select the Closers tab and click on the "Redeem a Code" button.
5. Enter your code and click the "Submit" button.
6. You're all set to begin playing on Friday, September 29 at 9:00 a.m. PDT.
Featured Video
Note:
1. Each code can be redeem just once and each person cannot redeem more than one of these codes.
About:
Closers is an online action RPG which follows the exploits of an elite team of psychic teens in the futuristic city of New Seoul as they balance the everyday obligations of high school life with the daunting task of saving all of civilization from an army of invading interdimensional aliens.
More Giveaways:
Games You May Like