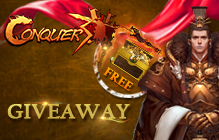 Conquer Online Anniversary Gift Pack Giveaway
FREE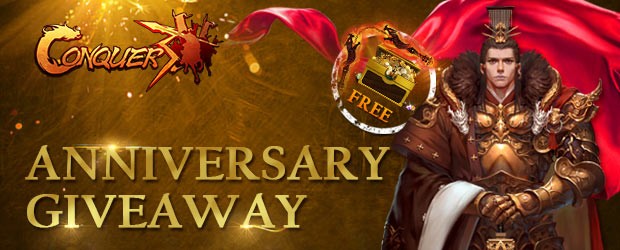 MMOBomb.com has partnered with the Conquer Online team to bring a special Anniversary Gift Pack for new players to challenge numerous marital artists in the world of Conquer! Each pack will give your free wings, items, Conquer Points, and more! To get your code key you just need to click on the button below. Get your key now while supplies last!
Conquer Online is a free PvP MMORPG which features Free to Play, Skill to Win. In Conquer Online, you can choose from 9 awesome classes and become a martial arts master. While exploring the ancient oriental fantasy world, you also can make friends with other players all over the world, organize a guild, and even get married. Complete quests, challenge fierce monsters, enhance gear and finally you'll become the conqueror of the world of fighters. Since launched, Conquer Online has attracted over 10 million players worldwide. Join and prove yourself on the world-class stage now!
How to get and use your Key:
1. Log in to your MMOBomb account to get your key. If you don't have one, register for free HERE.
2. Click on the big yellow button at the top. Copy and paste your key to a safe place as you may not be able to retrieve it once closing your browser.
3. Sign up for free here and download the game to create a character.
4. After creating a character, come back to the event page and enter your new character's name and info.
5. Claim your prizes in game at your mailbox.
6. Make sure you never miss a giveaway, follow our updates via Facebook, Twitter!
7. Enjoy the game! Have Fun!
This code contains the following items:
⦁ EXP Ball(B) x7, Double EXP Potion(B) x7, a Praying Stone(M)(B), Meteor Scroll (B)x7, +1 Stone(B) x7, a +2 Steed(B) (Random), 50 CPs(B) and an Elite Tempest Wing(B)!
Featured Video
Note:
1. Each code can be redeem just once and each person cannot redeem more than one of these codes.
Need Help?
Having problems with your key? Please visit our help center HERE.
More Giveaways:
Games You May Like