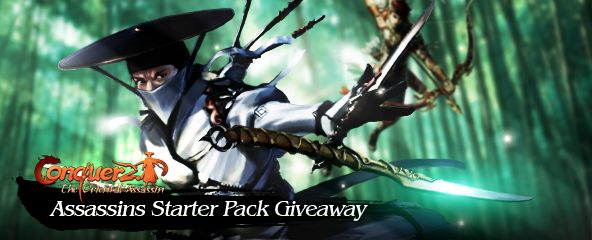 Conquer Online Assassin Starter Pack Giveaway
FREE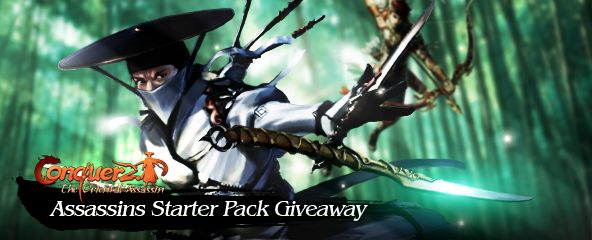 After a long month of waiting, Conquer Online has finally announced the arrival of their latest addition – the Oriental Assassin! TQ Digital, together with MMOBomb, brings the fantastic assassin starter pack to boost your development. To get your code key you just need to click on the button below.
How to get and use your Key:
1. Log in to your MMOBomb account to get your key. If you don't have one, register for free HERE.
2. Copy and paste your key to a safe place as you may not be able to retrieve it once closing your browser.
3. Sign up on the Event Page.
4. Download the game and then login to create a new character
5. Come back to the Event Page, input the gift pack code, confirm the group and server information in the Confirm Info pop up window
6. Login to the game and grab the gift packs from the Prize Officer (Market 185, 170). You can easily open up the "Path Finding" menu, choose "Others" and then click on the "Prize Officer", the auto path system will lead you there automatically.
7. Make sure you never miss a giveaway, follow our updates via Facebook and Twitter!
8. Have Fun!
Note:
1. For new players only
2. Players have to choose Archer (become Assassin when Level 40) as your class to equip the Flying Dagger!
3. One gift pack per account per IP
4. First come first served
The Assassin Starter Pack includes:
1. Open the Pack when you are Level 1, you can get:
Fashion Garment, Double EXP*2, Unique Flying Dagger, Exp Ball, 50,000 Silvers
2. Open the Pack when you are Level 50, you can get:
Weapon Accessory, Double EXP*2, Elite Flying Dagger, Exp Ball, 100,000 Silvers
3. Open the Pack when you are Level 100, you can get:
Mount Armor, Triple EXP, Super Flying Dagger, Exp Ball*2, 300,000 Silvers
Oriental Assassin: The Dark Has Fallen Trailer:
More Giveaways:
Games You May Like