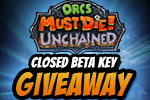 Enter for a chance to win an EU Beta Key for Orcs Must Die! Unchained
FREE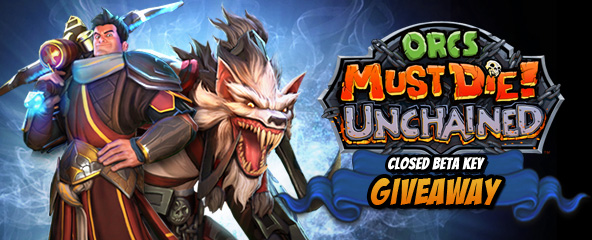 Hey folks, turns out our previous Orcs Must Die! Unchained giveaway was locked to just North American players. If you happened to get a key, but couldn't redeem it due to a "key does not exist" error, chances are you were trying to redeem it from another region. To make up for this oversight, Robot Entertainment has given us 25 Orcs Must Die! Unchained EU Beta keys . To enter, all you need to do is leave a comment using a real email address in the comment section. On 7/25 we will draw the winners from the comments at random.
As a reminder, this giveaway will ONLY work for players in the EU.
Orcs Must Die Unchained a fast-paced Fortress Siege game in which teams of heroes battle head-to-head to attack and defend ancient strongholds. For the first time in Orcs Must Die!, teams of players are responsible for both sides of the battle – building traps to stop the enemy assault and summoning their own armies to lead against the enemy defense. Dozens of unique and powerful heroes offer deep gameplay options at all skill levels, and players can build an arsenal from an enormous variety of choices, customizing their strategy for every match.
Winners list:
Intus Excidius
intunerikuss
Mitkosa
José Devezas
Skarmax
Minermanz
TG HellHound
jockyyy901
DubGuySeven
Remus
zilwiz
Zix
eddylukke
Ryunomaru
Alvega
Bogdan
tk0pe
Tenssess
Sotius
Radovan_96
PretzelBear
Tryjordy
Up4
Soul_Rip
Jone991
How to redeem your key:
1. Visit www.orcsmustdie.com and click "Register for Beta" on the top right.
2. Create an account on the OrcsMustDie.com site.
3. Once you have registered your account, login and click on 'My Account' on the top right of OrcsMustDie.com.
4. Click on 'Redeem Code' on your 'My Account' page.
5. Enter the code provided to receive a 'Download Game' button on the 'My Account' page.
6. Make sure you never miss a giveaway, follow our updates via Facebook, Twitter!
7. Have Fun!
More Giveaways:
Games You May Like