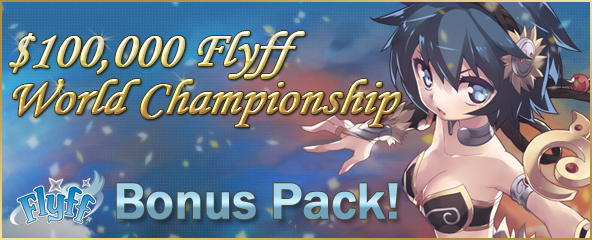 Flyff: Fly for Fun Bonus Pack Giveaway
FREE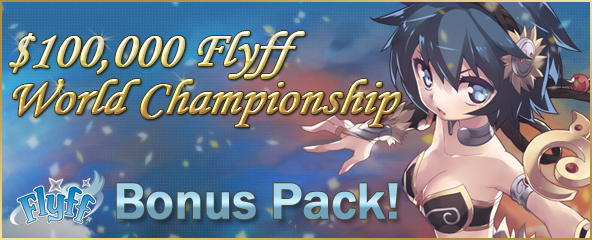 The final round of the $100,000 Flyff World Championship is here, and though only a lucky few made it gPotato and MMOBomb have teamed up to bring everyone free celebratory items! We've set up a pack full fantastic items as a bonus for all our new and seasoned Flyff players to enjoy. Pick up yours today and help cheer on your favorite team!
Flyff is a free to play 3D MMORPG and has been described by the community as endearing, charming, and undeniably fun. Flyff offers in-depth item customization, engaging combat, seven diverse continents, and over twenty character classes. Flyff's unique flying system is easy to learn and gives players access to floating islands and other explorable lands. Players can take flight on customizable wings, brooms, bikes and many other unique mounts.
How to get and use your Key:
1. Log in to your MMOBomb account to get your key. If you don't have one, register for free HERE.
2. Copy and paste your key to a safe place as you may not be able to retrieve it once closing your browser.
3. Create a gPotato account and/or login.
4. Visit https://billing.gpotato.com/Fillup/FillupFrm.asp
5. Under "Others," select gPotato coupon.
6. Input your coupon code and click "Fill-Up Now".
7. Login to Flyff to receive your prize.
8. Make sure you never miss a giveaway, sign up for our daily newsletter, it´s free!
9. You're all set to go! Have Fun!
Bonus Pack Includes:
• Event Gift Box x1
• Scroll of Blessing x5
• Grilled Eel x1
• Magic Broom for Beginners x1
*Limit one per account, Non-Tradable
Flyff Gameplay Preview
More Giveaways:
Games You May Like