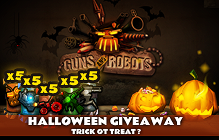 Guns and Robots Halloween Gift Pack Giveaway
FREE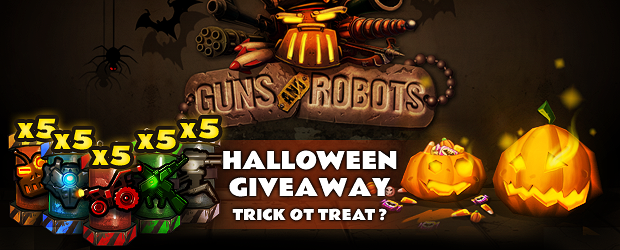 MMOBomb and Masthead Studios have teamed up to giveaway a Halloween gift pack for the action game Guns and Robots! To get your code key you just need to click on the button below. Get your key now while supplies last!
Guns and Robots is free to play online third person shooter with lots of robot action and massive customization.
How to get and use your Key:
1. Log in to your MMOBomb account to get your key. If you don't have one, register for free HERE.
2. Click on the big yelow button at the top, and copy your key. The key will be temporarily saved for you, so you can go back to this page later and get your key back.
3. Log in to your Guns and Robots' account at https://www.play-gar.com
4. Register your key HERE and jump straight into the action.
5. Make sure you never miss a giveaway, follow our updates via Facebook, Twitter!
6. That's it, enjoy!
This code contains the following item:
5x Actuators ( Upgrade component for your Chassis)
5x Armor Plates ( Upgrade component for your Body)
5x Armaments ( Upgrade component for your Weapon)
5x CPU Cores ( Upgrade component for your Head)
5x Onboard Integration Modules ( Upgrade component for your Device)
Guns and Robots Gameplay:
More Giveaways:
Games You May Like